Tamnak Lao Restaurant serves traditional Lao cuisine, many of which are prepared with bark, wood, and vegetables collected from the local jungle. This 2-storey restaurant is about 650 km east of the Royal Palace Museum of Luang Prabang.
Grab a table on the outdoor terrace on the upper floor for a nice view of Sakkarine Road. Staff are accommodating and speak basic English, making Tamnak Lao Restaurant rather popular with tourists. Standout dishes include the Luang Prabang salad (egg salad with coriander, watercress, and fried garlic) and feu kua – sticky rice noodles with chicken and vegetables.
Interested in this tour? Book it here.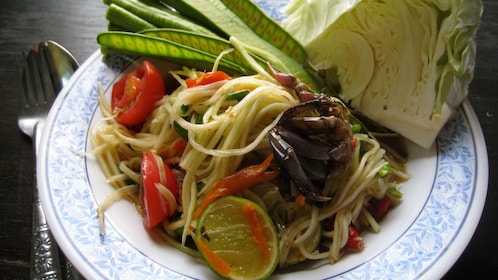 per adult
Free cancellation
Book
You can also join a cooking class if you're looking to learn how to create Laos dishes during your holiday. The session includes an hour-long tour of a local market, where you can pick up fresh ingredients and experience the local daily life.
After shopping, you'll return to Tamnak Lao and prepare traditional cuisine such as larp gai (minced chicken salad), panaeng kai (chicken in coconut milk), and fried morning glory. You'll also be given a cookbook for you to recreate these dishes back home.
Tamnak Lao
Opening Hours: Daily from 9am to 4pm and from 6pm to 10pm
Address: Sakkarine Road, Ban Watsene, Luang Prabang, Laos
Tel: +856 71 252 525
Rate This Place:
( votes)